The Rapture make their return to DFA with their awaited album, In The Grace Of Your Love.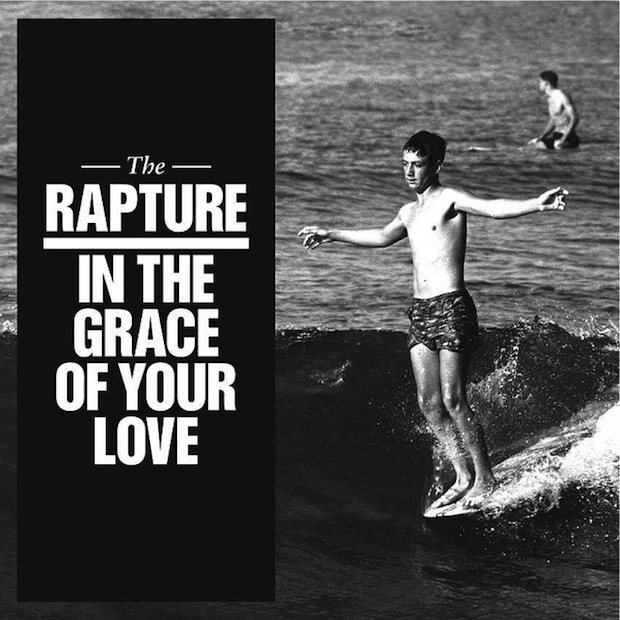 The New York based 3-piece, consists of vocalist and guitarist Luke Jenner; drummer and percusionist Vito Roccoforte; and multi-instrumentalist Gabriel Andruzzi.
Name Game time! Alright, I know some people hate this, but I like to do it. How would I describe/categorize The Rapture (specifically in the context of this album)? I've heard/read "dance-rock" and even "dance-punk'; I like to get "Starbucks order" crazy with it: post-punk electronic dance-rock. Nailed it, right?
The trio delivers a big and broad sound. And most importantly, you can shake a leg to it. It's the deep bassline grooves, funky guitar fills, and steady yet syncopated rhythms that make you move. That last part may seem a bit contradictory, but I'd say it's more of a dichotomy. And I think that's what this album is about. Specifically, the dichotomies of Love.
The lyrics throughout the album are nothing mind blowing, but definitely relatable. Remember that broken relationship you had that you just couldn't let go of? Remember the weight off your shoulders when it was finally over, but the lingering longing for that person. Lyrics like those in "Miss You" will remind you: "Always thought I could kill, but ahhh I can't kill you...Always thought I could forget you but ahhh I can't forget you.."
Each song of album explores aspects of the Love/Hate dichotomy of Love itself. The title track encapsulates the bands sound and this theme. Just pay attention to the song's groovin basslines, funky guitar riffs, catchy synth melody, and the vocal wailing of unrequited love, yet unquivering faith in the power of it.
Heavy stuff right?
It's not all sap and heartbreak. Despite it's thematic elements, there is plenty of fun to be had in listening to this record. "Come back to me" does it with deep sub-bass and bouncy House rhythms. I especially enjoyed "How Deep is Your Love"; it's emotionally interrogative lyrics ride an electro-textured Disco beat; making it introspective and dance party ready!
This is very solid album. I'm looking forward to the sure-to-come flurry of remixes, edits, reworks, etc of the tracks. So before you are unable to tell which track is a remix or original, give it a listen. DFA has been kind enough to let us preview the album in it's entirety via Soundcloud. I'd say this one is worth the purchase, but you decide for yourself! (Oh, leave me some comments people, I'd love to get your thoughts!)