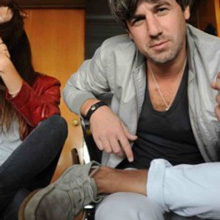 Lazy Disco has put together a mix I really enjoyed for the latest installment in the Lazy Sundays series. This one, number 9, consists of tracks coming strictly from label Gomma. I was excited to see that, as Gomma Records is home to some of my favorite artists such as, Munk, Rodion, and In Flagranti.
From Lazy Disco's description:
"This week's Lazy Sundays is all about Munich's Gomma Records. This hour-long set features tracks from gomma releases new and old, including stuff by Munk, Golden Bug, Whomadewho, Martin Brodin and my Discotexas-bud Moullinex."
The mix has a variety of Nu/Disco and Disco-House tracks from Gomma's artist. There's a section that I particularly enjoyed. It's two consecutive tracks starting at around the 34 minute mark (the track names escape me unfortunately): Synthy Nudisco fire! There's a good variety in sound as tracks are pulled from a good amount of the labels artists, and it works well due to the quality mixing. Nothing lazy about this one..Enjoy!


Lazy Sundays 9 (September 18, 2011) - Gomma special
by
Lazydisco